Product Solutions
Provide total solutions for Life Science applications together with global partners. We are constantly striving to be more
connected, forward-looking and customer-focused to deliver best results.
Product Solutions
Toxins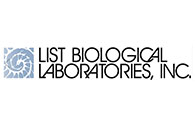 List Biological Laboratories, Inc
List Biological Laboratories, Inc. is a supplier of research reagents including bacterial toxins and antibodies, such as Anthrax Toxins, Antisera & Antibodies, Botulinum Toxins, Cholera Toxins, Clostridial Toxins, Difficile Toxins, Diphtheria Toxin & CRM, Exotoxin, AFRET Peptides, Native Substrates & Receptors, Lipopolysaccharides, Pertussis Toxins & Virulence, Factors, Shiga Toxins, Staphylococcal Toxins, Tetanus Toxins & Related Products, Toxoids, Vaccine Carrier Proteins and Adjuvants.
www.listlabs.com